Trail Rated – What Your Jeep Can Do | Best Chrysler Dodge Jeep Ram
Jeep has tested and approved several of it's vehicles for five important off-road capabilities. Passing the test earns the vehicles a "Trail Rated" 4×4 badge, originally released by Jeep in 2004 due to the increasing demand for mainstream recreational vehicles. Currently the Jeep Grand Cherokee, Cherokee, Renegade, Compass, Patriot, Wrangler Unlimited and Wrangler all have available Trail Rated trim levels. Trail Rated capabilities extend far beyond those of the typical 4×4 vehicle. There are five components of Trail Rated – What Your Jeep Can Do, all of which are explained below.
Five Components
All Trail Rated 4×4 Jeeps have passed the Nevada Automotive Test Center (NATC) for five different adjectives related to off-roading. The five components are Articulation, Maneuverability, Traction, Ground Clearance, and Water Fording. Because of Jeep's outstanding performance in these five areas, they have becoming a leading mainstream off-road choice for adventurers.
Articulation
Articulation deals with the flexibility and adaptability of the suspension system as a whole.  Since axles can twist and pivot, Jeeps are able to keep wheels on the ground when one becomes elevated. This in turn helps the vehicle maintain traction and keeps the Jeep moving forward.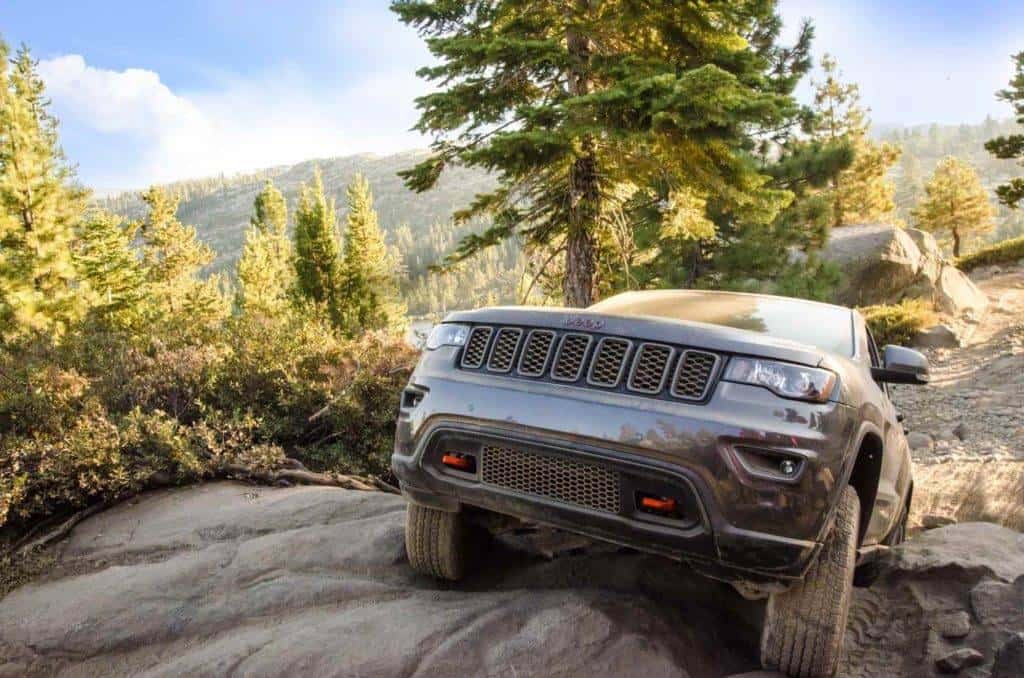 Maneuverability
Another component that Jeep offers is class-leading precision steering systems and visibility, as well as longer wheelbases (the distance from front to rear wheels) which allow the driver to maneuver through rough terrain with ease.  Crawling over rocks, logs and up other rough terrain in a Trail Rated Jeep is less than challenging, and has become a lifestyle hobby for many Jeep enthusiasts.
Traction
There are multiple 4×4 systems to choose from when purchasing a new Jeep.  Just about all of them are ready to climb mountains straight from the factory.  Be sure to visit Jeep's 4×4 page to see which system will best suit your off-roading or tough terrain needs. The new selec-terrain system allows the driver to readjust how the Jeep traction control system reacts to different types of terrain such as snow, rocks, mud, and sand.
Ground Clearance
Ground clearance is pretty self-explanatory, but very important.  Jeeps, especially Trail Rated trim levels, provide ground clearance and approach angles that are unmatched by just about all other 4×4 vehicles. Not only does this feature provide the ability to move over objects, but it allows the driver to approach very steep inclines without bottoming-out the front or rear bumpers.
Water Fording
Jeep's with a Trail Rated badge are each rated to be capable of driving through different depths of water. You can even pass through up to 30″ in the Wrangler and Wrangler Unlimited! The centrally vacuum sealed drivetrain components have extra protection from moisture. In addition, many of the electronic systems in Trail Rated Jeeps are elevated beyond the normal height to help avoid dipping into the river or puddle encountered.
Trail Rated Wrapped-Up
Jeeps are by far an industry leader in 4×4 capability. Make sure to check out our new inventory of Jeep vehicles to find the perfect Trail-Rated rig for you next off-roading adventure!