Take the Family Bowling at These 3 Plymouth-Area Lanes
One of America's favorite pastimes — bowling — is alive and well in the Plymouth, Massachusetts, area. This weekend, rediscover the love of bowling at any of these top-notch Plymouth-area lanes: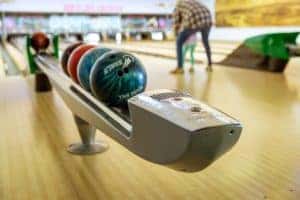 PiNZ Kingston
If you're looking for a bowling alley right in Plymouth's backyard, head to PiNZ Kingston. PiNZ offers a ton of fun for the whole family or all your friends with their bowling lanes and other attractions. In addition to a great bowling setup, you'll also find laser tag, an arcade, virtual reality games, ax throwing, ping pong, billiards — you get the point. There's so much to do and eat here that it's easy to spend a few hours having a blast. And if you're looking for a way to keep the kids busy for a few hours, PiNZ Kingston is your new home away from home.
PiNZ Kingston is open from 11 a.m. to midnight Monday through Thursday, 11 a.m. –1 a.m. Friday, 10 a.m.–1 a.m. Saturday, and 10 a.m. to midnight on Sunday.
Prices are $5 a string Monday through Friday and $6 Saturday through Sunday before 6 p.m. After 6 p.m., those rates go up by $1. Shoe rentals are $3.95 plus tax.
Kingston Ten Pin
For a more classic bowling alley experience, head to Kingston Ten Pin. This bowling-specific business gives you and your friends everything you need for a great bowling game on one of 16 ten-pin lanes. If you're looking for a league, you'll find it here. To stay fueled for your frames, the alley offers a great array of snacks, such as burgers, sandwiches, pizza, onion rings, mozzarella sticks, and so forth. Kingston Ten Pin doesn't need the gimmicks, excessive black lights, and showiness of the multiplex bowling alleys that have grown so popular. This is bowling at its purest.
Kingston Ten Pin is open from 3 p.m. –11 p.m. on Mondays, Tuesdays, Thursdays, and Fridays; 10:30 a.m –11 p.m. on Wednesday, 9 a.m. – 11 p.m. Saturday, and 1 p.m. – 11 p.m Sunday.
Prices are $4.60 a string during the weekdays until 6 p.m. and $4.95 after. During the weekends, games are $5.50.
Alley Kat Lane Candlepin Bowling
Ah, the New England classic: candlepin bowling. If you want nothing to do with ten-pin bowling, head to Alley Kat Lane Candlepin Bowling. You'll find 26 lanes of candlepin alleys here, as well as an arcade for the kids. You might notice while you're here that you'll also be at Kingston Ten Pin. Like a room divided in two with tape, this separate bowling alley shares the same location. What better way to debate the age-old ten-pin vs. candlepin argument?
Since the two alleys share the same building and owners, prices are the same. However, Alley Kat is open at different times: 9 a.m. – 11 p.m. Monday through Saturday and 10:30 a.m. to 11 p.m. Sunday.
Whether you're looking for something fun to do with the kids or you're a seasoned bowling league professional, you're sure to find a fun time at these Plymouth area lanes. Supporting your local businesses and finding reasons to get away from Netflix has never been so fun.