Experience the Music Scene in Odessa, TX
West Texas has an amazing music scene, and Odessa, Texas, and the surrounding area have many music events and concerts. Here are six of the area's upcoming events, and whether you're into rock, country, or folk there is something that will suit you.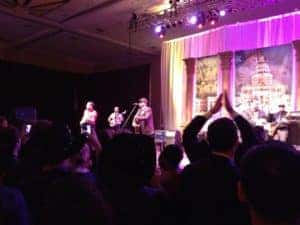 Manic Drive – James Roberts Center, Andrews
Manic Drive are a Canadian pop/rock band formed in 2004. They have released four albums and feature lyrics that the band says, "aim to encourage listeners to challenge themselves in all aspects of their lives." The concert takes place on Nov. 6, 2019. General admission tickets are $15 in advance or $20 on the day of. VIP tickets are $35 and include preferred seating and a meet and greet.
Parker McCollum Music – Dos Amigos, Odessa, November 
Parker McCollum is a 25-year-old singer songwriter based in Austin who is bringing his brand of folk, Americana, and country music to Odessa. The multi-instrumentalist will be showcasing his much anticipated second album, "Probably Wrong" as well as his earlier work. The concert takes place on Nov. 8, 2019 and is 18+ only. General tickets are $15. Under 21s will have to pay an additional $5 at the door.
Bri Bagwell – Rusty Bucket BBQ and Tavern, Midland
Country singer, Bri Bagwell, who has been chasing her dream for more than 15 years, is now touring and performing songs from her album, "In My Defense." She proves that the chase was worth it and she is now a woman living her dream. In the variety of songs, her heartfelt lyrics are mostly autobiographical. They concert takes place on Nov. 14, 2019.
4.Southern Satellite ft. TJ Broscoff – The Brewery, Odessa
Playing their own brand of Americana alternative country, singer TJ Broscoff and his band, Southern Satellite, from Gun Barrel City, Texas, perform songs about his dark experiences of addiction as well as songs about more upbeat issues. The band are touring on the back of the release of their latest album "Crooked Road, Crooked Rain." The performance will take place on Nov. 16, 2019.
Josh Abbott Band – Dos Amigos, Odessa
The Josh Abbott Band are a six-piece melodic band from Lubbock, Texas, who perform an upbeat style of country music. They have just released their fifth album "Until My Voice Goes Out." Traditional instruments like the fiddle and banjo feature prominently in their performances, even as their music evolves. The show takes place on Nov. 30, 2019, and tickets for this adult only concert are $25 plus a $5 fee for under 21s.
Miles Williams & Hammer Down – The Lonestar Bar, Midland
Miles Williams specializes in red dirt and Texas country music with an emphasis on lyrics and telling stories of real-life experiences. He works with a philosophy of knowing your roots and not forgetting where you come from. Regardless of the size of the audience, it's apparent that he performs for the love of music. The concert takes place on Dec. 27, 2019.
These shows are well worth seeing, and you should make sure of getting your tickets early so that you don't miss out.
Image via Flickr by Stacey Huggins used under CC By