Enjoy Authentic Mexican at These 5 Plymouth Area Restaurants
Plymouth, Massachusetts, has its fair share of top-notch Mexican restaurants. When you have a craving for Mexican food, nothing else will suffice. Start your exploration at these great restaurants in town: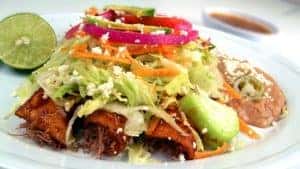 Su Casa
Su Casa's refreshing take on Baja cuisine makes it one of our favorite Mexican restaurants in the town. The region-inspired menu gives you many options you won't see at your typical Mexican restaurant, such as lobster tostadas, ribeye carne asada, bluefin tuna, pork cutlet gordita, and more. They also have a decent selection of streets tacos that are just as interesting — think octopus or mild mushroom and squash. Lunch or dinner, Su Casa is always a great choice and a satisfying break away from standard Tex-Mex cuisine.
Los Jefes
If you're on the hunt for a Taco Tuesday spot, check out Los Jefes. Their taco creations are some of the best in town, and a far cry away from your entry-level ground-beef fast-food taco. Grab their beer-braised short rib, lime and pepper chicken, chorizo, or cilantro-lime shrimp to change the way you think about the world of tacos. On Taco Tuesday proper, you can get a limited selection of their taco menu for just $4 a taco. But whichever night you visit, you can rest assured that you're getting the best tacos in town.
Sam Diego's Mexican Cookery & Bar
Since 1995, Sam Diego's has been a crowd-favorite Mexican food destination. The Tex-Mex and Mexican dishes that line their menus hit the spot when you're looking for a great family-style Mexican restaurant. Chimichangas, burritos, enchiladas, quesadillas, and an array of house specialty plates are just a few of the great ways you can take a tour of Mexican food in Plymouth. The only thing as good as their food is the beautiful restaurant itself, house in a historic building on Main Street.
Cancun Family Mexican Restaurant
Over in Kingston, you'll find the Cancun Family Mexican Restaurant. As its name suggests, this restaurant is an excellent choice if you're trying to feed the whole family, thanks to their wide range of options and great prices. You'll find all your favorites here: tacos, burritos, chimichangas, steak picado, fajitas, burgers, and much more. Their fun atmosphere and friendly staff complete the experience, making this a reliably tasty family dining restaurant.
Carmen's Cafe Nicole
The charming Carmen's Cafe Nicole, overlooking the bay, is a great breakfast and lunch restaurant that serves a few Mexican-inspired dishes. We suggest going for the huevos rancheros for breakfast and chicken nachos for lunch. In addition to good food, you'll also find good drinks, making this a great meetup spot for friends. Whether you're trying to start the day off right or sharing food with your party, Carmen's Cafe Nicole is a quaint little shop.
Whether you're looking for the best tacos or a cheesy enchilada, you're sure to find something to satisfy your craving at these and Plymouth's other Mexican restaurants. Let us know which are your favorite, especially if they're not on this list. We're always looking for a new Mexican restaurant to try out.