Discover History in Plymouth
The Pilgrims landed on Plymouth Rock four centuries ago, and Plymouth, Massachusetts, is an ideal place for history lovers to learn more about the first European settlers in the area. It's also a charming, beautiful New England town. Here are some of the best places in Plymouth where you can discover more about history.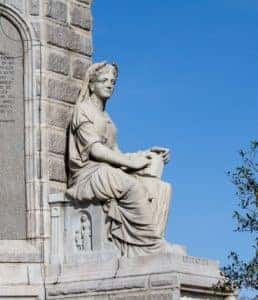 Plimoth Plantation
Plimoth Plantation recreates the Plymouth Colony in the first years of its existence. The ground reflects the topography of the original settlement, and the street layout is the same. A rough stockade fence surrounds the community, including replicas of the two-story fort and the homes of Governor Bradford, Reverend Brewster, Miles Standish, and many other founders. The buildings are made from small trees plastered with straw and mud, and costumed interpreters play the roles of historical figures.
Outside the gates, there's a small, carefully reconstructed Wampanoag settlement with Native American interpreters. These cultures lived together in peace for more than 50 years. The outdoor exhibits are closed during winter, but you can still enjoy the Plymouth Winter Farmers' Market or see an independent film at the Plimoth Cinema. The Plentiful Cafe has menu items inspired by Native American and Colonial dishes along with burgers, snacks, and salads.
The Pilgrim Hall Museum
The Pilgrim Hall Museum is the oldest in America, opening in 1824. It's filled with original items that belonged to the Pilgrims, and visitors can see Governor Bradford's Bible, the cradle of Peregrine White, a baby born on the Mayflower, and Myles Standish's sword. You can also see the Sparrow Hawk, a wooden ship that wrecked off Cape Cod in 1626, the chair of William Brewster, and a sampler embroidered by Myles Standish's daughter.
This museum is open from February through December from 9:30 a.m. to 4:30 p.m. Parking is free, and kids under six years old and residents of Plymouth get free admission. Pilgrim Hall Museum also offers a variety of online exhibits about table settings, childhood, Plymouth's maritime history, and more.
The Jabez Howland House
This is the only remaining home in Plymouth where Pilgrims once lived. Jabez Howland built this two-story, timber-framed house in 1667. His parents, John Howland and Elizabeth Tilley Howland, both arrived on the Mayflower. They often spent winters in their son's dwelling.
The house has been restored to its 17th-century appearance, and it contains a variety of period antiques. It shows many artifacts and documents from other Howland properties, and it's on the National Register of Historic Places. It was a private home until it became a museum in 1912. It's usually open from June to October, and it contains artifacts from archaeological digs at the nearby homes of John and Elizabeth, letters from famous descendants including Franklin Delano Roosevelt and Winston Churchill, and many other interesting items.
In Plymouth, Massachusetts, you can learn what life was like for some of the earliest settlers in America. You can see demonstrations from interpreters, check out authentic artifacts, and help your kids and family members find out more about history while enjoying some picturesque scenery.