Check out the Features of Dodge's New Stars and Stripes Editions
The 2019 model year for Dodge's muscle car icons salute the United States Armed Forces. Dodge reports that it has the highest numbers of U.S. veteran and military car owners of any other American car company, and the Stars and Stripes Package is a way for them to give their thanks.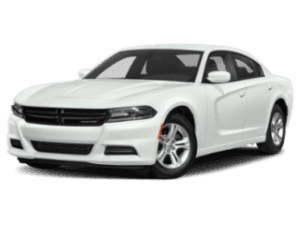 Here's a rundown of what the Stars and Stripes packages for the Dodge muscle cars brings to drivers:
Exterior Features
The Stars and Stripes package is an appearance upgrade for Dodge's two muscle cars: the 2019 Challenger and the 2019 Charger. This tribute to America's military takes what was already a sharp-looking pony car and gives it a polished edge.
The package adds a unique black racing stripe with a single silver border that runs down the entire length of the car. You'll also get blacked-out wheels and bronze brake calipers if you opt for a model equipped with the large high-performance Brembo brakes.
To top it all off, the flying American flag decals on the fender are reminders of why we celebrate our nation's heroes. Whichever model you choose, you can expect the same level of unparalleled style the Charger brings every year.
Interior Features
Inside, the patriotic atmosphere continues with black cloth upholstery and bronze stitching on the seats, steering wheel, and door panels. The seats feature a bronze embroidered star that adds a nice touch to the interior.
This package adds aesthetic upgrades to the Charger and Challengers already well-equipped cabins. In both, you'll find a great array of features to get excited about, from the smart touch screen that enhances every drive, to the available heated premium cloth or Nappa leather-trimmed performance bucket seats. In short, the Charger and Challengers offer a uniquely exhilarating experience, both inside and out.
Power and Performance
The 2019 Dodge Charger is America's only four-door muscle car and a beast on wheels. As always, it's a powerful performer, with a 300-horsepower V-6 for the GT model and a 370-horsepower 5.7-liter HEMI V-8 for the R/T. If you want the biggest engine for your Stars and Stripes Charger, opt for the R/T Scat Pack to get a 392 HEMI V-8 that packs an exhilarating 485 horsepower and 475 pound-feet of torque. The 2019 Challenger's engine offerings work much the same way but add 5 horsepower to each setup except the Scat Pack's.
Pricing and Availability
The Stars and Stripes Package is offered on limited trim levels for the 2019 Charger and Challenger. For both models, the package is available on the GT, R/T, and Scat pack trim levels. The package adds $1,995 to the Charger and Challenger's base price. However, veterans and active military shoppers get a $500 military bonus they can use toward any Dodge.
If you're ready to take a test drive of one of Dodge's iconic muscle cars, come see our team at Best Chrysler Dodge Jeep Ram in Plymouth, Massachusetts. If you're a veteran, active military, or military family member, we would like to shake your hand and thank you for your service.