Have You Checked Your Tires Lately?

Tires are the single most important safety feature on your vehicle, they are the only part of your vehicle that has direct contact with the road. The condition of your tires could be the difference between a close call and a collision. Our certified technicians are trained and have the most advanced diagnostic equipment to identify possibly dangerous flaws in your tires. Improper inflation and tire defects can lead to poor gas mileage or worse, a blowout. Tires with less than half their tread can lead to hydroplaning on wet surfaces.
Why Buy From a Dealer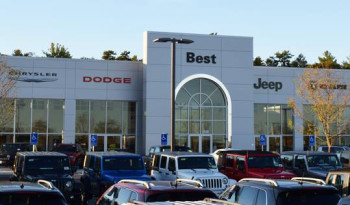 At Best Chrysler Dodge Jeep Ram we try to take extra care of your tires, so you don't have too.
Why do we care so much? Your tires affect your driving experience, which directly related to how much you like your car. And we know if you like your car, you are more likely to love us! But why else buy from Best:
KNOWLEDGE: We are trained by the manufacturer to know the perfect tire for your Chrysler, Dodge, Jeep, Ram.
SELECTION: We have a wide variety of the right tire on the shelves and can offer you a "GOOD, BETTER, BEST" option to fit your budget.
PRICE: "All weather", what's that mean the others are "No weather"? Tires sizes!? I don't know, I want the rounds ones!"
$20 above our cost. That's it. Tires are confusing enough as it is: Don't worry about it and don't worry about the price, we have you covered.
MOPAR Road Hazard Protection: We offer road hazard protection for all makes and models, which covers damage to the tire.
Our Price Match Guarantee
With our Tire Price Match Guarantee, Best will meet or beat any competitor's tire prices. We will also include a FREE alignment with the purchase of four tires and the installation package. Customers must present a written tire estimate to show for comparison that is less than 30-days old.