All New RAM TRX
Welcome the All New RAM TRX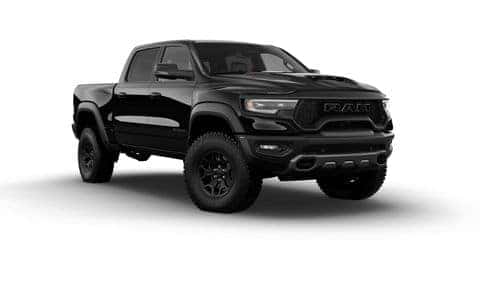 It's new, it's a special edition and it's a RAM TRX. This Beast of a beast is just that. Take a tour and see what this truck is all about. To keep you informed, Best Chrysler Dodge Jeep Ram in Plymouth Massachusetts has one coming in stock. Are you ready for this Beast, this RAM TRX?
RAM TRX Power
RAM TRX is not made for the faint of heart. The power has shifted. Just released is this new RAM TRX with horsepower striking at over 700 horsepower / 650 foot pounds of torque and has a 0 to 60 time of only 4.5 seconds. Powered by a supercharged 6.2 L Hemi V8, we've seen these motors in the hellcats of yesterday. The sound, the noise the feel, the drive, the energy that this RAM TRX provides is unreal to the pickup market.
The motor is a twin-screw supercharger also known as a root style blower on top of the motor. The TRX has instantaneous torque with a maximum speed of 14600 RPM on the screws. It can regulate boost pressure up to an astounding 11 PSI. I'm sure some of the aftermarket tuners will get this thing to cook up to around 15 pounds. The block is cast iron holding a forged steel crank and hardened bearings. The cylinders have the ability to withstand over 1,500 PSI of force.
Atop the motor, filtering almost 33 L of air per minute is a massive air box. Built around its high performance  structure, the system filters just about four times as much dirt and junk out of the air than the Ford Raptor.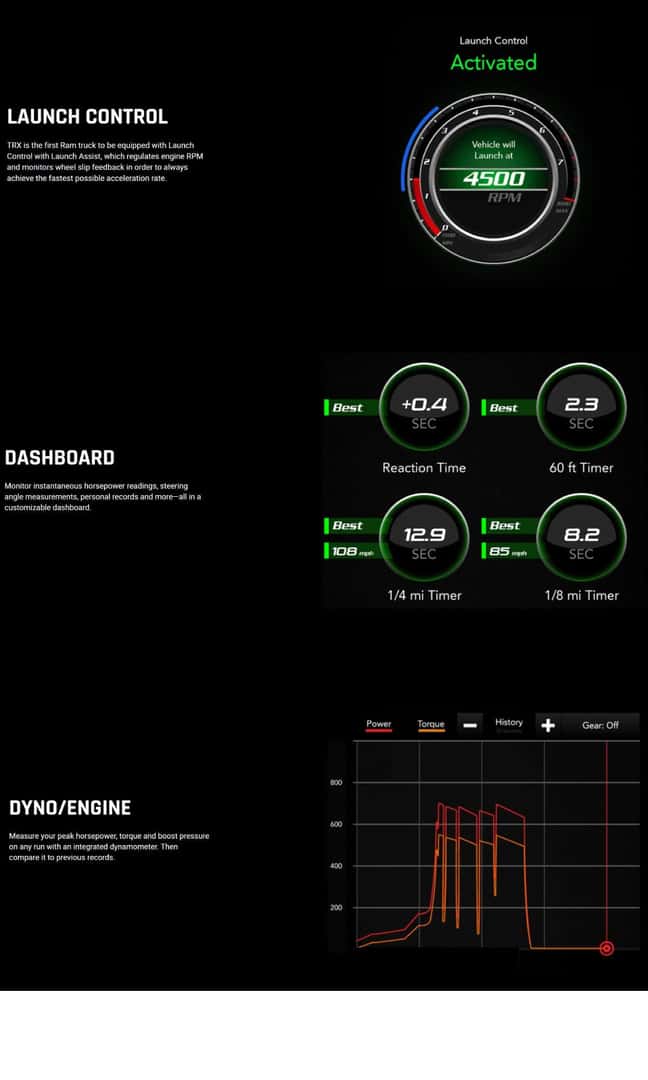 TRX Features
Options run rampant in this Beast. This year the TRX, the all new model, is equipped with launch control. It also has lunch assist which regulates RPM. When active, the vehicle achieves maximum acceleration rate and in most cases will be launching from an average 4500 RPM.
Not only internal but external the truck has a ground clearance of almost 12 inches, the front suspension travel of almost 13 inches and a rear suspension travel of almost 14 in. This truck can get up and get down. The Black Hawk Bilstein shocks run around this truck on all four corners. They do have Active Terrain Dynamics to help when this truck catches air.
There are plenty of options on the inside of this truck Ram TRX. The flat bottom steering wheel is added to give you some clearance around your legs. It gives you the ability to use the aluminum shift paddles and to look at the carbon fiber mixed with suede accents. It's ready to go grab the wheel hit the throttle. The truck does appear to have multiple modes for driving. The modes are listed like this Sport Mode, Snow Mode, Custom Mode, Mud/Sand Mode and Rock Mode. You can probably throw just about any terrain at this vehicle and I will handle it but the gobs of  horsepower and torque it will tow any Raptor out of its hole.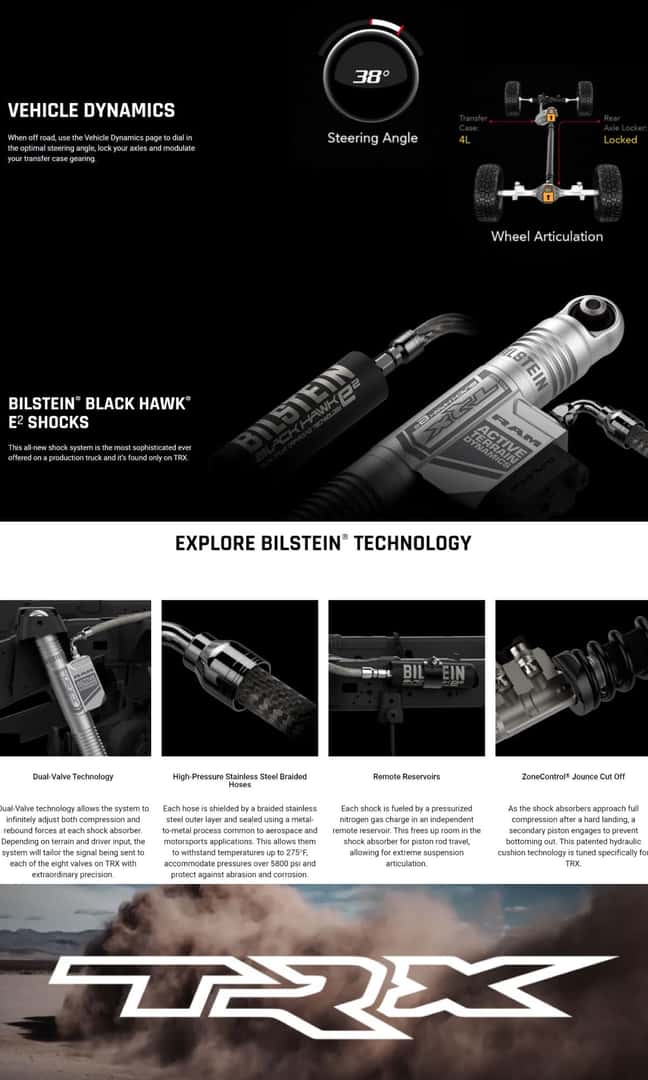 Exterior TRX
Around the exterior this Beast is a massive real up in the front but functional air intake scoop in the open mouth flow. The headlamps and identifier lamps are included in the grill set up. The LED headlamps do have adaptive forward lighting system. This is coming standard on the ram TRX. As you move around the vehicle he get to see some of the wide metal. Defender stick out at over three in covering the mass of tires and accommodate the enough protection and cooling play are dynamics and function. At this rate there are a bunch of available accessories for this truck like a bed mounted spare tire carrier or a light bar.
If you take a look more towards the tires there are some options. The factory aluminum wheel comes painted matte black what's some cool carvings to help throw mud and sand away from the brakes. Other options include a beadlock wheel. Beadlocks are legal off-road and they can be used to secure the rubber tire to the rim. The rib is made of a little bit up has a gloss black finish with Hardware. This new truck is equipped with 35inch, yes, 35 inch Goodyear Wrangler Territory All Terrain tires. I specifically developed for this new Ram TRX for any extreme application. The cross hatching the coarse thread and the thick side walls believe more than an impression are any surface it adheres to.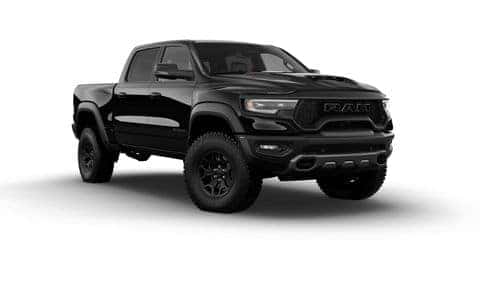 Interior TRX
A little bit of cool here when we roll up on the inside of this Beast. The new Ram TRX does it have heads up display. All kinds of options on the glass in front of you will display. Functions from shift points speed incoming calls messages destination points and more you can see all on your windshield. The center console has a stack of auxiliary switches for up to six auxiliary buttons. Most cases this trailer reverse steering control system lights the other things that can be attached to these buttons. The shifter is centrally located on the console. TRX badges wrap the interior and exterior of this truck.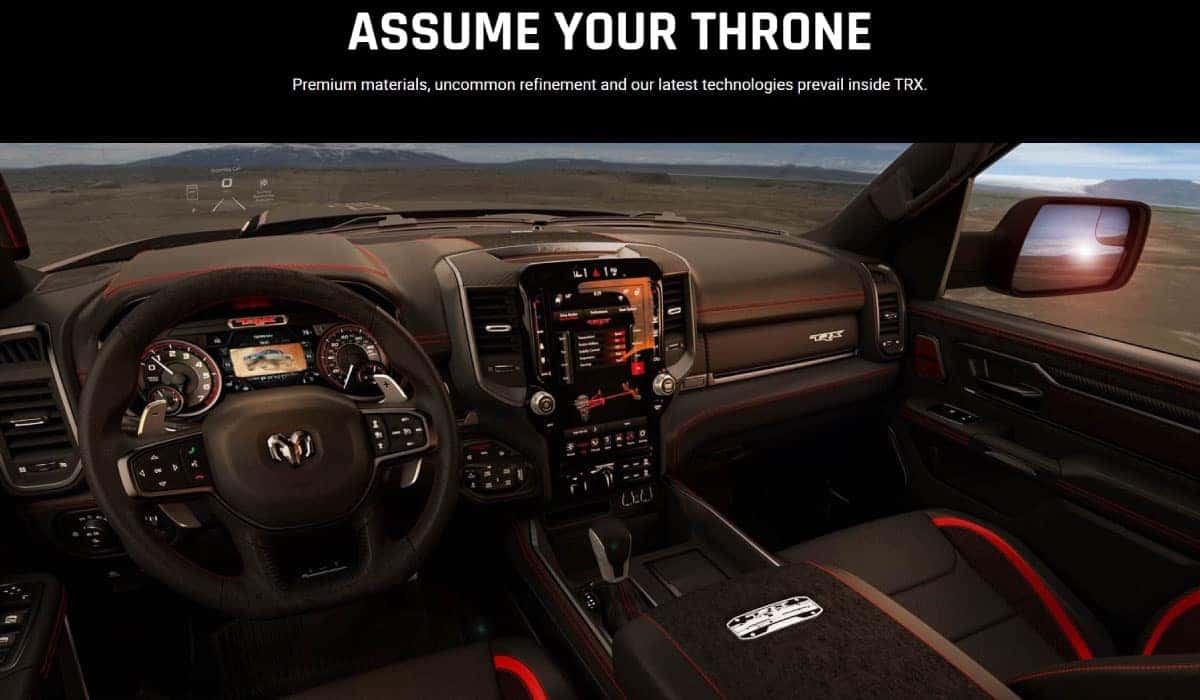 Interested in RAM TRX Information
If you're interested in the new Ram TRX ask best today with the inbound inventory we have one coming to our showroom soon. Black on black makes it work if there any other details you want to know about this Beast again Ask the best today. It will be the coolest truck in Plymouth Massachusetts. A limited number will be released this year, a limited number will be released in this state, and this is the only known one and the Plymouth area.