5 Fun Things to Do with Kids in Odessa
A day with the kids means exploring and adventure. Check out these places to go and things to see when planning your next fun-filled outing in Odessa.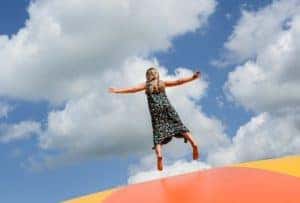 Altitude Trampoline Park
Kids of all ages will jump into action at Altitude Trampoline Park. The 30,000-foot park is filled with a variety of challenging equipment, including trampolines, a rock-climbing wall, trapeze bar, and much more. The park isn't just for kids. Enjoy family night from 5 p.m. to 9 p.m. on Wednesdays. Families get a special deal on an hour of jumping for up to four participants, a large pizza, and beverages.
Plan your visit Monday through Thursday from 10 a.m. to 9 p.m., Friday from 10 a.m. to 11 p.m., Saturday from 9 a.m. to 11 p.m., and Sunday from 11 a.m. to 8 p.m.
Midland Army Air Field Museum
A visit to the Midland Army Air Field Museum is a step back in time when warbirds were flying the skies during World War II. The museum houses vintage WWII airplanes that saw firsthand action. The purpose of the museum is to preserve a piece of history by restoring the airplanes for future generations to see and learn about an important piece of U.S. history.
Not only can you see the planes up close, but you can also reserve a ride high in the sky with a scheduled reservation. Kids must be five years old to participate in the ride program. Hours are from 10 a.m. to 3 p.m.
3. Museum of the Southwest
Located in Midland, the Museum of the Southwest has an interesting area for kids called the Durham Children's Museum. Other areas offering exhibits and shows include the Turner Memorial Art Museum, Marion West and William Blanton Blakemore Planetarium, and the Sculpture Garden.
The museum is open Tuesday through Saturday from 10 a.m. to 5.pm. and Sunday from 2 p.m. to 5 p.m.
Sibley Nature Center
At the Sibley Nature Center, there are plenty of things designed to do just for kids. From camps and nature clubs to backyard adventures that get kids involved, the museum is a great resource for learning about nature, natural habitats, and the environment.
Situated on 49 acres, the center offers numerous exhibits, an extensive library, and a trail walk focused on the history, flora, and fauna of the Llano Estacado region. The center is open from 9 a.m. to 6 p.m. Monday through Friday. Admission and parking are free.
I-20 Wildlife Preserve and Jenna Welch Nature Study Center
For a wild day of exploration, education, and adventure, plan a visit to I-20 Wildlife Preserve. The 100-acre riparian forest is teeming with over 700 species from butterflies and birds to raccoons and bobcats.
The preserve is made up of prairie grasslands, wetlands, floodplain thickets, and the 86-acre urban playa lake. There's much to see and do including wildlife observation from several platforms and exploring numerous hiking trails. The preserve is open Tuesday through Saturday from 8 a.m. to 6 p.m.
From jumping and bouncing to air flights and exploring nature, Odessa has a diverse menu of things to do with kids of all ages.