4 Places to Explore Nature in Plymouth
Plymouth, Massachusetts, and the surrounding area are full of beautiful landscapes and wildlife. It's an ideal place to enjoy a hike or go camping with your family members. Here are some of the best spots where you can explore nature in Plymouth.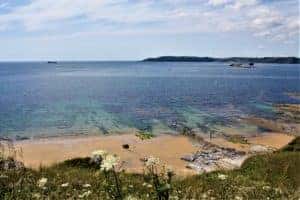 North River Wildlife Sanctuary
The North River Wildlife Sanctuary has a half-mile boardwalk that goes through a red maple swamp, a small cattail marsh, and a salt marsh overlooking the North River. In spring and summer, you can see scarlet tanagers, ovenbirds, harbor seals, mink, or other wildlife. You can also learn how a rain garden works, check out a shell in the Kid's Corner, or borrow some binoculars to watch the birds in the garden. The trail is 2.5 miles long, and there's a gift shop with handcrafted items, field guides, feeders, books, and nature-themed gifts.
It's open from January to March on weekdays from 9 a.m. to 4 p.m. From April to December, it's also open Saturday from 10 a.m. to 3 p.m. The North River Wildlife Sanctuary is named for the state-designated Scenic River along its northern boundary. It covers 225 acres, and free parking and a picnic area are available. Many classes about birding, climate change, drawing, photography, and many other subjects are available.
Ellisville Harbor State Park
In this place, you can see rolling meadows, red pine forests, fishing boats, a barrier beach, a salt marsh, a sphagnum bog, and harbor seals. It's open from sunrise to sunset, and free parking is available. You can go hunting, hiking, fishing, or cross-country skiing. There's also a picnic area and a scenic viewing area.
The Lyman Estate
The Lyman Estate was the warm-weather retreat for four generations of the Lyman family. In 1793, shipping merchant Theodore Lyman commissioned famous architect Samuel McIntire to design and construct this house. They enlarged it in a Victorian style in 1882, and they remodeled it in a Colonial Revival style in 1917. The estate has 37 acres of gardens, lawns, and historic greenhouses that are open all year. You can take a tour of the estate on the third Saturday of every month, and it's an excellent place for weddings and other special events.
Billington Sea Kayak
This business is on the shores of the Billington Sea, an inland lake in Plymouth, and it offers a range of canoe, kayak, and paddleboard rentals. You can watch demos on the water every weekend, take a guided tour, or get lessons to improve your paddling techniques. Camps for kids are available as well. It's open in spring and summer on weekdays from 11 a.m. to 5 p.m. and on weekends from 10 a.m. to 5 p.m.
By spending some more time outdoors, you can relax, get some exercise, boost your immune system, and enhance your creativity. You can also have fun with friends or family members, learn more about the ecology of the Plymouth area, and take some beautiful photos. Take advantage of your opportunities to enjoy nature in Plymouth, Massachusetts.