2019 Dodge Durango: Muscle Car Strength, SUV Utility
If you are looking for an exceptional three-row midsize SUV, look no further than the 2019 Dodge Durango. This powerful, comfortable, and spacious vehicle is perfect for taking passengers and cargo to any destination on the open road. Take a look at the Durango's features below, and you'll see why it is the perfect combination of power and utility.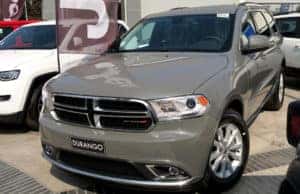 A Powerful Ride
The Durango for 2019 sports a powerful 3.6-liter V-6 engine, generating 295 horsepower and 260 pound-feet of torque. It utilizes an eight-speed automatic transmission and gets 19 miles per gallon in the city and 26 miles per gallon on the highway. An even stronger 5.7-liter V-8 engine is available, producing 360 horsepower and 390 pound-feet of torque. If you want the best the Durango has to offer, go with the 6.4-liter V-8 that generates 475 horsepower and 470 pound-feet of torque.
A Relaxing Interior
The 2019 Dodge Durango provides an exceptionally smooth ride for an SUV. Drive comfortably with three-zone automatic climate control, a 7-inch touchscreen with access to Apple CarPlay and AndroidAuto, and Bluetooth compatibility. Find your way with the optional GPS navigation system as you grip the heated steering wheel and enjoy comfort in the heated and ventilated power seats with memory settings. A Blu-Ray compatible two-screen video player can be added to the backs of the front seats, so that your passengers can be entertained during your drives.
Plenty of Space
The 2019 Durango is capable of carrying up to seven passengers. The SUV has 17.2 cubic feet of cargo space in the rear, and folding down the back row of seats increases that to 43.3 cubic feet. Fold down the 2nd row as well, and you'll reach a whopping 85.1 feet of cargo space, making the Durango the perfect cargo-hauling SUV. A hidden chamber under the cargo hold's floor is ideal for small items or tool storage. Small storage compartments are also built into the dashboard, so that your phones, sunglasses, and other items can be stored safely.
A Wide Array of Options
The 2019 Durango is available in eight trim levels, including the SXT, SXT Plus, GT, SRT, GT Plus, Citadel, R/T, and Citadel Anodized Platinum. The trims come in two and three-row variations, making the Durango ideal for road trips and carpooling. The Durango is available in rear-wheel and all-wheel-drive configurations, so it can get you where you're going regardless of the terrain in your path.
Built for Safety
The Durango for 2019 is equipped with an array of safety features that would set any driver's mind at ease. Featuring electronic stability control with anti-roll, ABS driveline traction control, a set of seven airbags, forward collision warning with forward collision mitigation, and braking assist, this SUV is packed to the brim with high-tech safety options.
Head over to Best Chrysler Dodge Jeep Ram in Plymouth, Massachusetts, to take a closer look at the 2019 Durango and the rest of their expansive inventory. Their expert personnel are ready to answer any question you might have and point you towards the perfect vehicle to suit your needs.